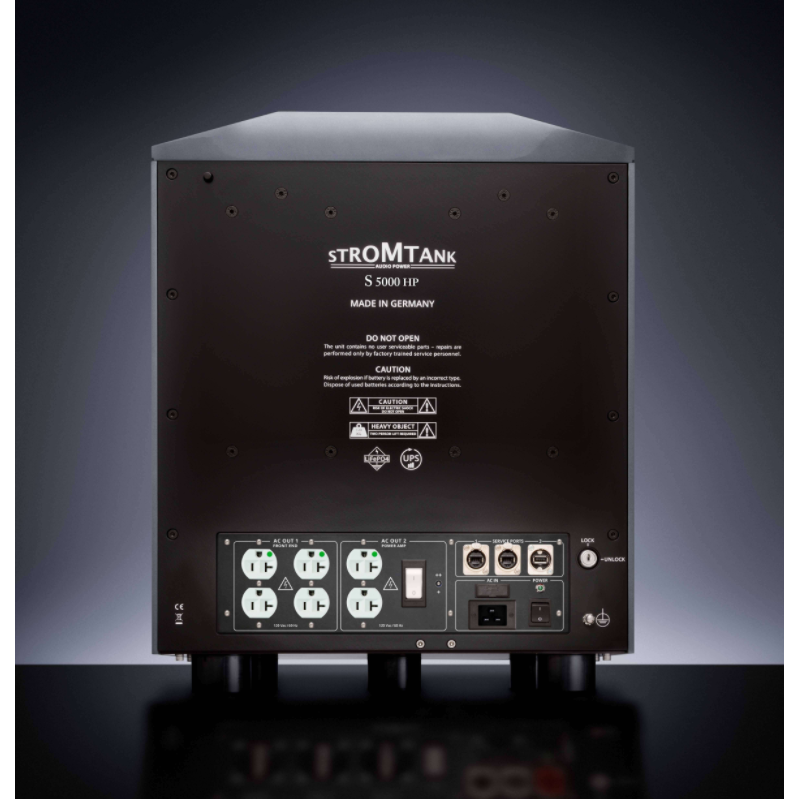 Stromtank S-5000 HP Power Generator
Pickup available at Audio Connection
Usually ready in 5+ days
Stromtank S-5000 HP Power Generator
Meteorit
Live Chat Support (8am - 8pm)
Free Australia Wide Shipping
02 9561 0788. We speak English, Mandarin, Cantonese, Vietnamese
BUY NOW PAY LATER | INTEREST-FREE REPAYMENTS
Split your payments over 2, 6, 12 or 18 months.
0% on your purchase, zero fees.
No minimum spend.
All you need is a valid credit card (Visa, Mastercard, Amex).
Choose "More Payment Options" below and choose "Monthly credit card payments" on the checkout screen.
---
Need Help?
If you have any questions or need advice - give us a call on 02 9561 0788 during business hours or use our live chat service AEST 8am - 8pm everyday (you'll chat with a real person, not a bot!).
Only the STROMTANK power generator offers you the unique opportunity to provide your system with stable energy completely disconnected from the electrical grid. This complete network separation works for hours and it may be perfect for you during this time no matter how many power plants are on and off or how many hair dryers and PowerLAN adapters in the neighbourhood are causing mischief.
The main feature of each STROMTANK is a powerful generator combined with a high capacity battery and a unique feature.  
Each Stromtank model has 2 different working modes:

1. ON-grid (blue illumination at front meter)
STROMTANK supplies the audio system from the electrical grid according to the principle of a regenerator, but with one important difference: an insufficient power supply will be compensated by a block of rechargeable batteries which, thanks to a permanent controlling of the system, is able to supply as much energy as required (boost-function)
2. OFF-grid (green illumination at front meter)
All audio components connected to STROMTANK are supplied solely by the batteries with constant current. The average autonomous operating time is 4-8 hours, depending on the choice of STROMTANK model and the energy consumption of the connected components.  When the battery state-of-charge reaches a critical minimum, the STROMTANK will automatically recharge itself from the mains.

This development was possible by using the new and innovative battery technology: lithium iron phosphate (LFP).  STROMTANK uses a special type of LFP battery that shines with maximum power delivery, maximum lifetime, voltage stability and intrinsic safety.
Another essential point is the lifetime of STROMTANK's LFP batteries. This is ensured by our battery management system specially developed for these needs.  Decisive for the long life cycle of a battery is the professional treatment of each individual cell with an intelligent, active battery management system. His priority tasks are:

Active balancing up to 10A bi-directional (charging & discharging)
Inspection of temperature, voltage, current load and state-of-charge of each single cell
absolutely maintenance free
Special Front Finish available upon request.  Additional fee applies.
SPECIFICATIONS
Technology: computer controlled lithium-iron-phosphate battery array (LiFePO4) for long life
Storage capacity: 5.000 Wh
Nominal battery voltage: 48 Vdc
Input voltage range: 100 – 130 Vac or 200 – 245 Vac
Input frequency: 50 or 60 Hz (factory setting)
Transfer time: < 15 ms (on grid to off grid)
Output voltage: 100-130Vac / 200-245Vac (pure sine wave)
Output frequency: 50 Hz / 60 Hz +/- 0.05% (crystal controlled)
Continuous output power @ 25°C: 1.500 VA
Output power 30 min. @ 25°C: 2.400 VA
Peak power 3 sec. @ 25°C: 5.200 VA
AC output receptacles: 6x US sockets (3x Hubbell duplex Hospital spec. grade) or 3x Schuko sockets (Furutech High performance NCF)
Weight: 125 kg / 275 lbs
Dimension (w x h x d): 48 x 58 x 59 cm / 19 x 23 x 23 inches