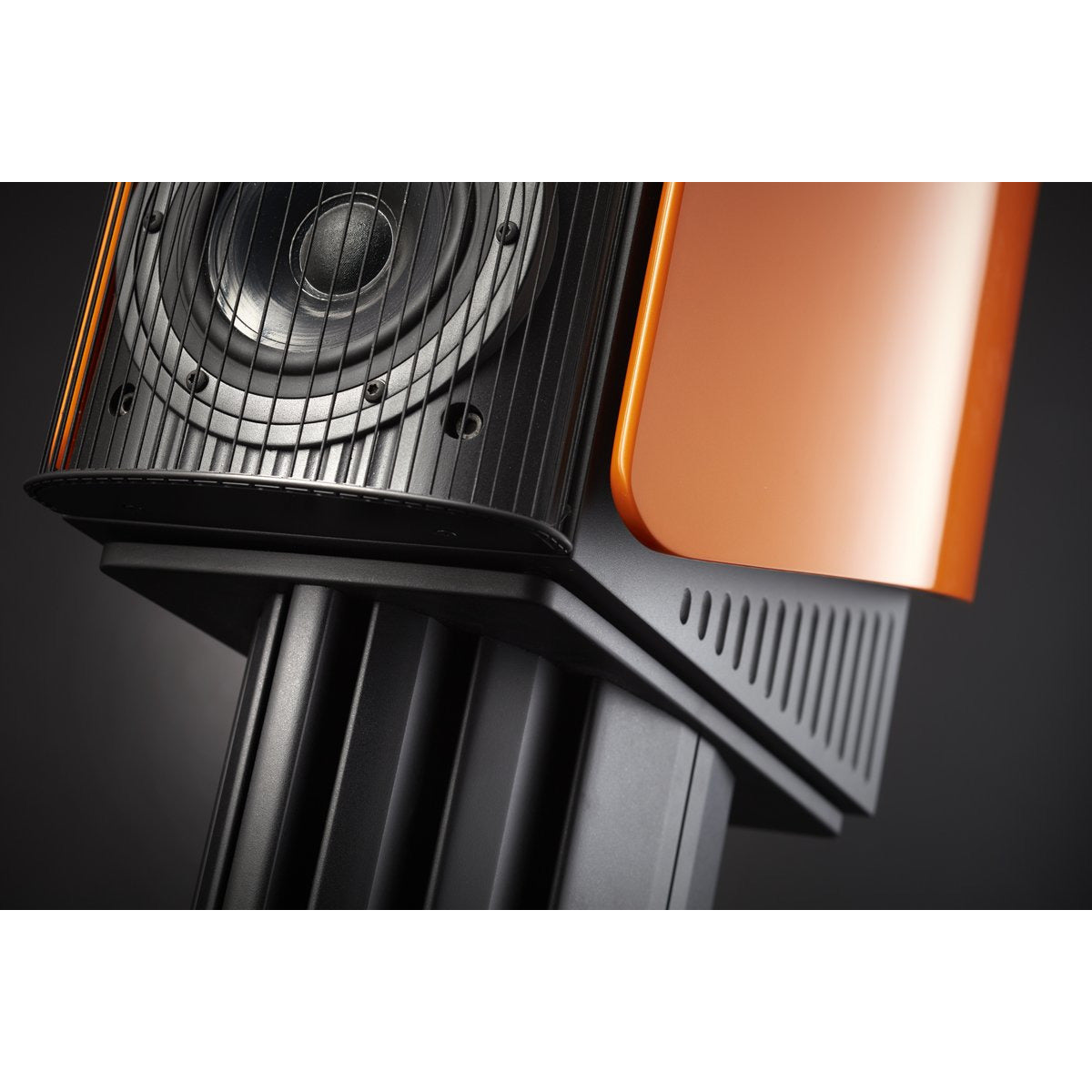 The Gryphon Mojo S
Pickup available at Audio Connection
Usually ready in 5+ days
Live Chat Support (8am - 8pm)
Free Australia Wide Shipping
02 9561 0788. We speak English, Mandarin, Cantonese, Vietnamese
BUY NOW PAY LATER | INTEREST-FREE REPAYMENTS
Split your payments over 2, 6, 12 or 18 months.
0% on your purchase, zero fees.
No minimum spend.
All you need is a valid credit card (Visa, Mastercard, Amex).
Choose "More Payment Options" below and choose "Monthly credit card payments" on the checkout screen.
---
Need Help?
If you have any questions or need advice - give us a call on 02 9561 0788 during business hours or use our live chat service AEST 8am - 8pm everyday (you'll chat with a real person, not a bot!).
Product features
Two-way, three-driver loudspeaker system
Duelund Constant Phase crossover for perfect phase at all frequencies at all times
System response 37 Hz - 40 kHz, -3 dB (depending on room size)
Time-aligned concave front baffle for identical arrival time from all drivers at the listening position
Mechanically independent baffles for each driver
Special cone surround termination to eliminate edge reflections
Hand-adjusted, hard-wired crossover network based on the finest components
Ultra-fast Air Motion Transformer tweeter with low-mass pleated metal diaphragm
User-selectable resistors for fine-tuning of in-room high-frequency response
Reinforced enclosures with extensive internal bracing
Pure, natural wool interior damping material
Stylish string grille for driver protection
Specially designed integrated base with two polyoxometalate feet and a single metal spike for optimal decoupling
Wide range of finish options
Designed and hand-built in Denmark
Gryphon Mojo S Reference Standard Loudspeaker System
Mojo (US slang, West African origin) 1. A charm or magic spell 2. The art of casting magic spells
As the third-generation heir to Gryphon Mojo's very first loudspeaker, the stand-mounted Cantata (2002-2008) and the current compact champion, the original Gryphon Mojo (2009-2016), the Mojo S comes with a vaunted lineage that immediately raises exceptionally high expectations.
Fortunately, because it draws heavily on the heritage of the Gryphon Kodo, our latest, cost no object, ultimate experimental test platform, the Mojo S is more than up the challenge, inheriting components, technologies and assembly techniques developing specifically for the Kodo.
Unlike most speakers in its weight class, the Mojo S was not built to a predetermined price point. Therefore, it lives up to the Gryphon philosophy of designing and building drivers correctly from the start, rather than using intrinsically flawed off-the-shelf drivers and attempting to compensate for their shortcomings with an overly complicated crossover.
Designed for seamless integration in a specific interval of room dimensions, Mojo S proudly joins the Gryphon Kodo in the uncompromising use of the finest hand-made components rarely seen in speakers of this size - or any size, for that matter.
Because of Mojo Säó» perfect phase linearity, extended frequency response and fine-tuning options, it is substantially more revealing and more musical than any other loudspeaker anywhere near its size. Be prepared for a radical revision of everything you thought you knew about compact loudspeakers and their capabilities.
The Mojo S drivers were not chosen because they are trendy, flavour-of-the-month favourites, but carefully selected through comprehensive measurement and listening specifically to form a perfect sonic symbiosis. As a consequence, they require no overly complex crossover network to beat the drivers into submission and compensate for intrinsic shortcomings.
Driver weaknesses have been prevented, leaving no need to äóìcureäó? them with unnecessary crossover components that in conventional designs can suck the life and energy out of your music.
With its distinctive wraparound wings and contemporary styling worthy of the finest domestic interiors, Gryphon Mojo S is available as standard in a broad range of distinctive colour options in multiple layer semi-gloss or high gloss two-pack automotive paint with a very hard surface.
Mojo Drivers
The high-frequency range is handled by an extraordinary Mundorf Air Motion Transformer drive unit that moves air by driving an extremely low-mass folded sheet in a semi-perpendicular motion via a powerful magnetic field.
With minimal mass, the AMT tweeter, invented by Dr. Oskar Heil, responds instantaneously to the audio signal and because of its large surface area, the pleated diaphragm structure energises a large air volume with minimal diaphragm motion, for a highly desirable point source sonic presentation. Eliminating fundamental issues of mass, inertia and internal resonance, the Gryphon Mojo S high frequency driver offers lightning fast transients, combining flat frequency response well beyond 38 kHz with extremely low distortion and a total absence of compression.
While such technologically advanced drivers rarely appear in comparably sized loudspeakers, Gryphon selected only the best to deliver Mojo magic.
To live up to the Air Motion Transformer tweeter, Mojo S employs a vertical symmetrical driver array with identical SEAS 6" bass/midrange units with a free-air resonance of 44 Hz and a mere 7.7 grams of moving mass.
Pulp paper cones, chosen for excellent linearity and controlled behaviour well beyond the driveräó»s designated operating range, eliminate any need for invasive corrective measures to reduce the negative effects of cone break-up.
The Mojo S dual port reflex system is tuned to 52Hz with a flow resistor in the mouth of each port. Carefully calculated resistive porting eliminates the resonant ringing which is an undesirable side effect in so many bass reflex designs with forced vented alignments. Instead, Gryphon Mojo S offers ideally balanced low frequency response that seamlessly integrates the port contribution with the direct output of the bass/mid drivers.
Dual 6äó? drivers provide larger surface area and high speed with minimal lag and overhang and allow a narrower front to reduce baffle diffraction. Built on die-cast baskets, the rigid, yet open, structure prevents built-up compression behind the cone.
Crossover
The Mojo S crossover network borrows heavily from a wide array of exclusive components newly developed for the top of the line Gryphon Kodo system.
All parts are hard-wired point-to-point with special Teflon hard-insulated silver wire, eliminating high-resistance printed circuit boards. Extreme hand-trimmed Duelund graphite resistors, legendary Jensen air-core paper/oil inductors and reference class, low-memory, precision Mundorf capacitors are components rarely seen in commercial loudspeaker designs because of their prohibitive cost. It is even rarer to find this level of parts quality specified for a stand-mounted monitor of Mojo Säó» compact dimensions.
Exploiting the inherent roll-off of the AMT tweeter, a fourth order 2 kHz crossover network ensures linear phase at all frequencies a remarkable accomplishment achieved only by Gryphon Audio Designs.
The filter incorporates external hot-swappable Duelund graphite resistors for three-stage, user-accessible ±1 dB tweeter adjustment. Empowering the user to adjust high frequency response for a seamless presentation without deleterious switches or rheostats, Duelund graphite resistors snap into place with convenient rear-panel clips, then connect with their original leads to screw terminals. The Mojo S system can deliver ideal high frequencies with mild roll-off (-1 dB), neutral response (0 dB) or mild boost (+1 dB) to integrate perfectly with the acoustics of the listening room.
Enclosures
Typically, speakers claiming ideal time alignment employ a simple sloped front, because it is inexpensive to build and assemble. In order to achieve Gryphonäó»s uncompromising design goal of perfect phase at all times at all frequencies, the Mojo S enclosure incorporates a front baffle consisting of three separate angled sections up to 34 mm thick which attach to a 22 mm sub baffle. The independent driver frames and the main baffle are separated by a rubber gasket which simultaneously acts as a seal around the drive units to eliminate air leaks. The baffles are connected only via bolts and rubber rings to minimize vibration transmission.
Meticulous attention has gone into the contouring of the baffle and driver surrounds to eliminate diffraction. Sound-absorbent material on reflective surfaces near the AMT high frequency driver prevents diffraction and smearing in the crucial time domain.
The Mojo S baffle ensures true time alignment, for exceptional levels of transparency and musical realism. The treated baffle also reduces reflections from floor and ceiling, for enhanced clarity.
Beneath its finely sculpted exterior, Gryphon Mojo S offers an inert, non-resonant platform for the drive units, combining extensive internal bracing and damping material.
The elegant, open string grille discourages attempts by inquisitive fingers to touch the drivers.
The rear of the cabinet is a dual-layer construction of aluminium and MDF. The crossover network is strategically placed inside to help break up internal standing waves. The inside side panels are damped with bitumen and the tweeter's own chamber is critically damped with a mixture of felt and wool.
The speaker terminals are Gryphon's proprietary five-way terminals also found on Gryphon's finest loudspeakers and amplifiers.
Unlimited Options
Gryphon Mojo S offers virtually unlimited custom finish options. Assembled using proprietary techniques, Gryphon products offer a service unique in the audio field: SideSpin, the ability to personalise your choice of finish not only at the time of original purchase, but also to replace side panels at any later date to keep pace with your evolving personal style and interior dí©cor.
SideSpin is a consequence of our philosophy that the Gryphon owner deserves not only sound quality to the highest audiophile standards, but also a unique and highly personal design statement equally pleasing to the eye.
Upstanding Style
Gryphon Mojo S incorporates a specially designed integrated base with two polyoxometalate feet and a single metal spike for optimal decoupling from the floor for effective prevention of transfer of vibration. For totally inert support, the column is filled with sand to add mass for even more effective damping.
The substantial supports provide a rock-solid foundation that lends the Gryphon Mojo S a firm grip on musical reality.
Gryphon Mojo S Speaker System Performance
Frequency Response: 37 Hz äóñ 40,000 Hz, Room dependent
Crossover Frequency: 2000 Hz, 4th order
Sensitivity: 89 dB/2.8V
Nominal Impedance: 4 Ohm
Power Handling: 200 Watts
Dimensions (WxDxH): 39 x 47 x 122 cm
Shipping Weight: 65 kg. (one speaker)
Specifications are subject to change without notice.